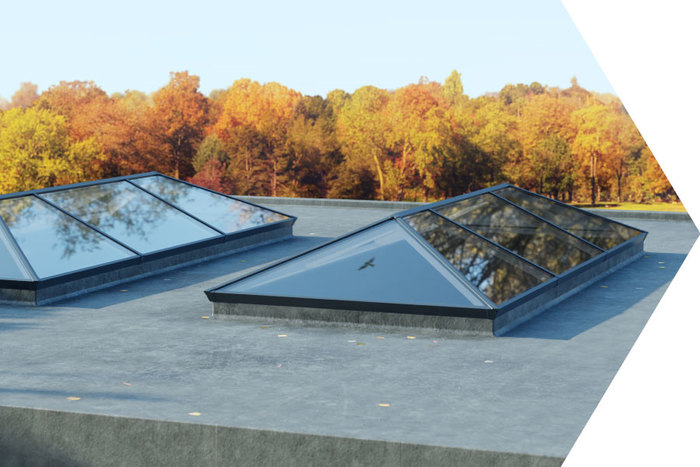 Aluminium Roof Lanterns Prices UK
Introducing the game changing aluminum roof lantern from UK Trade Windows and Doors . Our strong and thermally efficient roof lanterns have been designed to be easy and quick to install. With its slim sections and uninterrupted sight-lines, we believe the perfect blend between form and function has been achieved.
Please Note: All measurements and external Kerb/Upstand sizes.
White is available on the insides of roofs at no added cost. Contact us for further details
Click here to view the full brochure.
Configure Your Roof Lantern:
Secure
Sl's high security design encapsulates glass with a unique patent pending glass lock.
High performance glazing tape adds a layer of security.
Integral gaskets prevent top caps from slipping.
Anti-Tamper Security Screws for attaching end caps to the roof bars, preventing them from being removed.
High Security radius end top caps that are bolted through from the inside with a high security radius end metal fixing.
All rafter & hip rafter top caps are protected by an overlapping cast end cap which prevents access to the end of the bar and tops caps from being removed when attacked.
Sustainable
Innovative Thermlock  technology in all profiles keeps heating bills low. The multi-chamber technology is also far superior to traditional polyamide systems based around 24mm glazing.
The most thermally efficient eaves beam assembly ensures aluminium remains internal which helps reduce cold-bridging and condensation
issues.
High performance 28mm glazing 7.0 U-value W/(m 2 K) centre pane* provides truly exceptional thermal performance and gives the homeowner more options such as laminated or acoustic IGU's.
A unique co-extruded perimeter seal also ensures draughts and rain are kept safely outside.
Ridge body design prevents the risk of water tracking up and around the glass unit by fully sealing the unit within the glazing pocket.
Load tested for a snow load ofl.2 KN/m2. Covering the UK up to 200m altitude.
Subject to specification
Stylish
Glass closure trim with rafter end caps that run perfectly parallel creating a refined architectural look with clean, crisp modern lines.
Shallow top caps sit 8mm above external glass provide an ultra-low profile.
2-way and 4-way roof options available
Deep internal roof bars, clean lines and discrete external aesthetics create an exceptional looking roof.
Slim, consistent 50mm rafter, hip and ridge sightlines maximise the light flooding into the home.
Available in a range of colours to suit every home and interior.
Installation Benefits
Unique hook brackets support the hip rafters during construction, simplifying fitting on site and speeding up installation.
Internal rafter end caps prevent bars marking the eaves beam and ridge, eliminating the risk of damage during fitting.
Delivery
All roof lanterns supplied by us have a 7 day turnaround.
Free delivery on all roof lanterns within the M25.
FAQ's
1. How to stop flies in roof lanterns?
Ans: Wipe down the interior and outside of the aluminium roof lanterns to remove food or grime that may attract flies.
2. Pros and cons of roof lanterns?
Ans: Pro: Aluminum roof lanterns are durable, low-maintenance, and energy-efficient.
Con: High initial cost and unsuitability for various climates are downsides of aluminium roof lanterns.
3. Are roof lanterns noisy when it rains?
Ans: No, Uk Trade Windows & Door aluminium roof lanterns are not noisy when it rains.
4. Do roof lanterns open?
Ans: Aluminium roof lanterns enable easy opening and closing, so you can enjoy your rooftop terrace even when the weather isn't ideal.